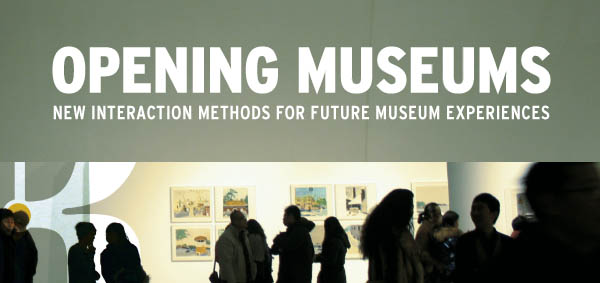 During a 3 month artist in residency (September-December 2011) at Red Gate Gallery in Beijing, China, we conducted a research, how to "open museums" with the help of digital technologies. As a outcome of the residency we published the book "Opening Museums – new interaction methods for future museum experiences". As a part of the research we organized a workshop in collaboration with Central Academy of Fine Arts (CAFA) City Design School and Today Art museum.
In this this book we acknowledge that the role of museums are changing, we address visitors as participants rather than passive consumers and recognize that a manifold of visitors need diverse approaches to engage with museums. Owing to our backgrounds in interaction design, new media production, digital media art and participatory art & design, we approach the theme of "opening museums" from a point of view where digital technologies can be used as tools to facilitate vistor-museum and visitor-visitor interaction. When exploring "new interaction methods", with the word "new" we refer to emerging practices in museums that encourage openness. On one hand we associate the term "interaction methods" to interactive technologies and suggest how museum visitors as users can intervene in computing processes through various interfaces. On the other hand we look at "interaction methods", as in how to encourage visitors to become interactive participants, following the theory that human communication is based on dialog and exchange. And the last part of the title "for future museum experiences", attributes to the 20 design concepts presented in this book, the aim to enhance openness in museums. All in all this book reflects on how attitudes in museums are changing, how visitor expectations are changing and how we as designers, considering both opportunities and challenges of digital technologies, can design for these opening institutions and their visitors.

We included a design workshop into our research process to acquire understanding of how young Chinese designers reflect on museums and their possibilities to open up as institutions through more interactive and participatory practices. China, with its continuously changing and developing view on art and cultural heritage, offered us an interesting playground to explore our ideas and attitudes with these young designers. We realized that there are big differences in attitudes to interpretation between authoritative state owned museums and increasingly opening private museums. We collaborated with Today Art Museum, the first private museum in Beijing, to give the students a context to design for. During the first of five workshop sessions we visited the Today Art Museum. There we discussed the role of museums, how visitors can take various roles in their way of interacting in museums, and through examples we looked at ways of encouraging participation through technologies as well as presenting design challenges.

Workshop video
Next the students were presented with a design challenge; "What could be done to make the museum visitors experience more interactive and participatory?" Today Art Museum brought forward two of their challenges; how to reach a younger audience and how to deal with constantly changing exhibits. So we encouraged the students to design for their own age group as a target group and to consider that their designs should be realizable in a museum environment like Today Art Museum. At the end of the first workshop session we visited the exhibitions, the museum's shop and café as well as the surroundings of the museum to get more familiar with the environment we were aiming to design for.
During the next five sessions we progressed each student's idea to a design concept. Abstract ideas developed towards realizable designs through presentations and discussions. Although we were from time to time lost in translation, the students learned how to conceptualizes their ideas and we gained a broader understanding of Chinese Social Media (since western equivalents like Facebook, YouTube and Twitter are blocked in China). Some of the designs will be further developed to applications or prototypes during the beginning of year 2012.
For interested KairUs is open to organize similar workshops you can read more about it here.
OPENING MUSEUMS IN IMAGES