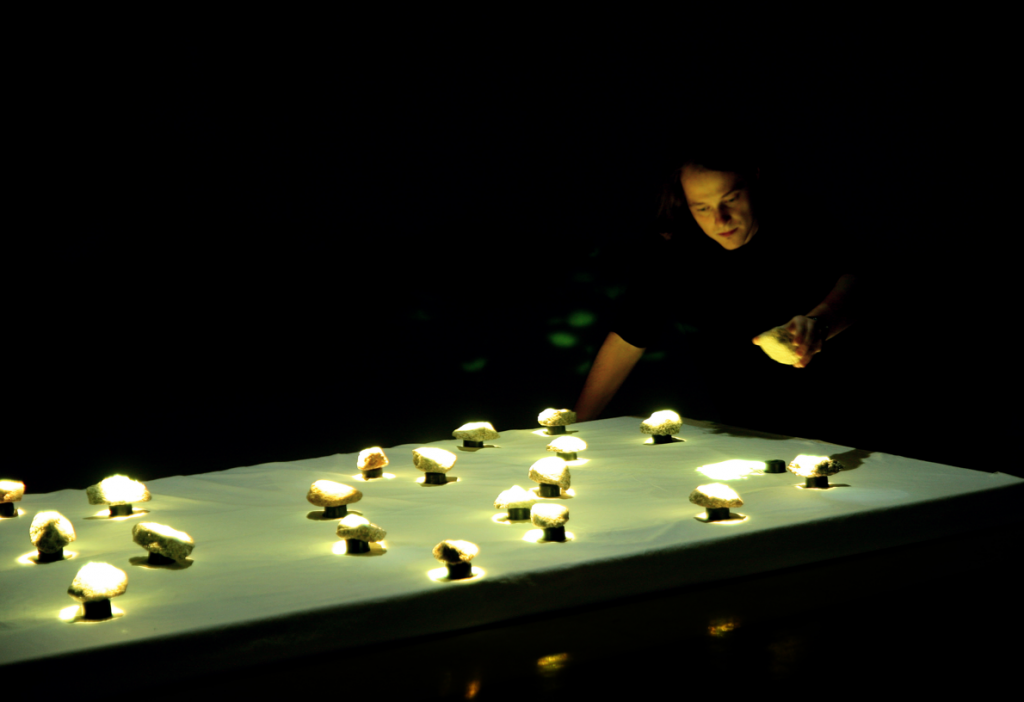 Samalu is an artistic installation about mountain myths from Austria and Korea. Mountainous countries like Korea and Austria have a special relationship to their mountains. In Austria wise woman called the "Salige", with knowledge of the mountains and special powers over the weather used to help hikers in the mountains. They were also protectors over the mountains and furious towards the ones who did not respect the nature. Today the "Salige" can only be found in the mountain myths and tales. Through history in Korea the presence of the mountains has been important and the "San-shin" mountain spirits protect them. Active mountain worship still exist in Korea and this can be considered as an important cultural heritage.
"Samalu" finds inspiration in old folk believes and shaman rituals, but brings the meaning of mountain myths and worship into todays contemporary Austria and Korea. Mountain worship reflects norms of society and humans have always found ways to express their dreams, hopes and fears, yet mediums and values changed. A non-linear story around this theme explores how we in our highly modern societies are attached to the nature through the mountains.
"Leave no stone unturned" while you explore the storyworlds of the "Salige" and "San-shin" through still images, video, sound and narration. The interface constructed of a number of stones refers to stone piles found on hiking trails around the world, each stone concealing an unique story. By lifting one or several of the real fist-size stones the visitor can experience various myths from both countries and explore different mountain landscapes.
A limited DVD edition  "Traces of Human Mountain Interaction" was available for purchase.

Presentations/Exhibitions:
2013:
WRO MEDIAART BIENNALE, Wroclaw/Poland.
ArtsIT 2013, Milan/Italy.
2012:
SIGGRAPH ASIA, Singapore.
AR FESTIVAL, Paiju/Korea.
PLAYING ON, Seoul/Korea.
CONTEMPORARY ART RUHR, Ruhr/Germany.
2011:
Beijing Dance Academy, Artist Talk, Beijing/China.
DUKWON GALLERY, Seoul/Korea.
CLOSER&CLOSING, Seoul/Korea.
Credits and Thanks:
We want to thank Prof. David Mason for his time, great green tea and support. The project was developed at National Museum of Contemporary Art, Seoul, Korea (thanks to Manager Hyun Ja Shin and programme Coordinator Ahyoung Baek and Yu mi Kim). Part of the research was done within the international program "Standing by – Lyrical Soul" with young korean creatives, in cooperation with Alternative Space LOOP Gallery, DUKWON Gallery, MIZY – International Youth Center and UNESCO. The workshop resulted in an exhibition at Dukwon Gallery in August 2011.
Demovideo:
More photos: