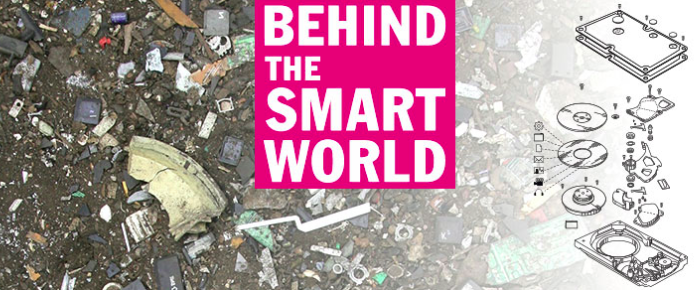 CALL FOR PARTICIPATION: "Behind the Smart World"
2 hour workshop
The workshop will take place at 32C3 Congress. (between Dec 27th-30th, 2015)
The workshop is organized by Andreas Zingerle and Linda Kronman (KairUs).
The participation to the workshop is free of charge. Participants need a ticket to the Congress!

When? Where?
Starts at    2015/12/28 13:00
Ends at      2015/12/28 15:00
Duration     120 minutes
Location     Hall C.4
We also opened up a second slot for the 29th if some of you are interested
in continuing working with the data and concepts around this topic.
Starts at    2015/12/29 11:00
Ends at      2015/12/29 13:00
Duration     120 minutes
Location     Hall C.4
Registration welcome!
Please register by sending an email to: we@kairus.org
Bring your own laptop for the hands-on part!
What is it about?
We bought 22 hard-drives at an e-waste dump in Ghana.
From 5 of them we recovered data and we bring this data to this years 32C3 Congress!
Together we want to explore questions like:
* What kind of data did we find on this hard-drives?
* How can this data be (ab)used?
* How would you deal with this data breach?
Who can participate?
We are looking for hackers, artists and activists to deal with this data!
Data as waste, waste in the sense that it is deleted, dumped in the 'recycle bin' on our desktop, yet possible to be recovered.
And waste as resurfacing data on hard-drives physically located at one of the largest e-waste dumps in the world.
I need more info:
More info about the "Behind the Smart World Project can be found on the research blog. Please drop us an email with further questions
The research lab is part of the "Art meets radical openness" Festival which takes place in Linz, Austria.
supported by: