Due to the Media Art History studies that I (Linda) am currently busy with I had the chance to be at the Renew 2013 conference in Riga 8th-11th of October 2013. Below a summary and reflections on the inspirational presentations at the conference and the "Save As" exhibition both being part of the Art + Communication 2013
Following some highlight…
Archiving:
During the Media Art Histories study module  and the conference I got focused on following how specially artist and communities can build practices around documenting their own works as well as other artists works around them. Therefore I wanted to bring forth the following presentations: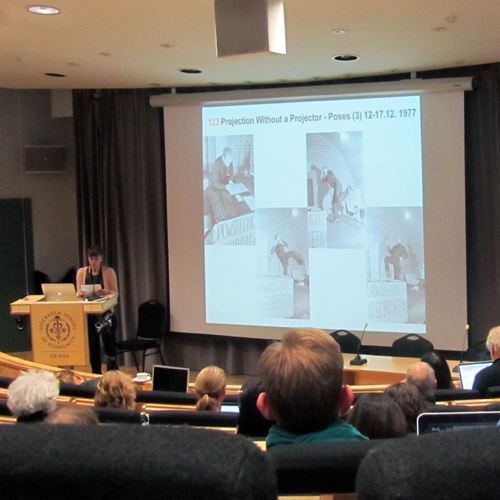 Magdalena Nowak: KwieKulik Archive: Documenting and Preserving Art in Communist Poland.
More Links
http://artmuseum.pl/en/kolekcja/praca/kwiekulik-archiwum-artystyczne-duetu-kwiekulik-zofii-kulik-i
http://www.kulikzofia.pl/english/ok2/ok2_nader_eng.html
Artist as self-archivers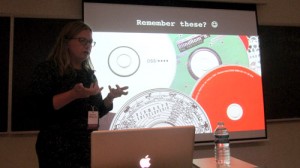 Sandra Fauconnier: The CD-ROM Cabinet: a non-institutional documentation and preservation initiative.
More Links:
http://aaaan.net/?p=778
Enthusiasts emulating and archiving art.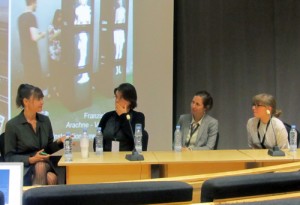 A good insight to a institutions perspective to collecting and perserving media art was presented in Panel C: Through the Conservator's Eye: Collecting, Preserving and Displaying Media Art. The three lady's presenting in this panel were also giving us a Workshop in the study model so we got even more into depth in these issues.
Patrícia FALCAO: Managing Inherent Change
Joanna PHILLIPS: Sustaining Media Art Collections: A New Focus in Conservation
Agathe JARCZYK: Building the Foundations for a New Conservation Specialty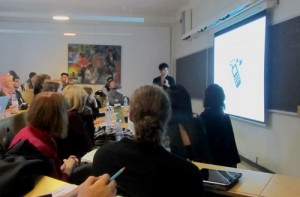 Heba AMIN:Voices from the Revolution
Archiving Speak2Tweet voicemail that was Tweeted when in January 2011 Egyptian authorities blocked access to Internet. Besides taking care of this archive she also uses it for her artistic works.
http://www.hebaamin.com
http://www.projectspeak2tweet.com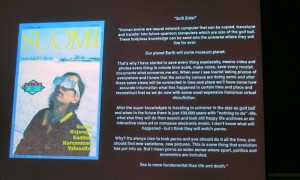 Also the Finnish inventor/artist/futurist Erkki Kureniemi was archiving his own life Perttu RASTAS one of the researchers working with these extensive archives the last years gave a presentation "Erkki Kurenniemi – Finnish hybrid of Stockhausen, Buckmister Fuller and Steve Jobs." Later in December 2013 I also saw an exhibition built from these archives. More about Erkki Kureniemi can also be found here: http://www.lahteilla.fi/kurenniemi/a-man-from-the-future
There is a couple of sessions to the theme of Archiving that I missed yet want to mention them here:
Nina WENHART's "Speculative archiving. On piratical ethics and shelf corpses."
I meet Nina several times here in Linz and her ideas of archiving has been a general inspiration for me. One of her writings can be found in the book Speculative Scenarios edited by Annet Dekker …btw it is worth reading the whole book.
and
Morten SONDERGAARD's The Media Artist as Functionary: Show-Bix, Århus 1968-71
Morten did a lecture for us and with him we got more in depth with his research as well as other work, generally thinking about media installations more from a performance perspective. Discussing the role of an curator when exhibiting an installation. How on one side with documentation and persevered artifacts one can try strive to reach copy an iteration of an installation set up by the artist. On the other hand a curator can take a more interpretative role and then as with theater plays critics and the audience can make up their mind was the interpretation good or bad. These approaches are two various sides of exhibiting media art that came up several times during the conference as well.
And for sure I will return to the list of presenters when my own research takes me there: http://renew.rixc.lv/sessions/archiving.php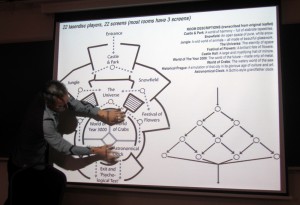 Besides archiving my interest is in interactive storytelling and a presentation connected to this field was actually from Chris Hales a teacher at my former school Aalto University.
Chris HALES:Cinelabyrinth and the Later Work of Radúz Činčera
And two bonuses that go more towards Bio-art that is not directly in my research scope but still I am fascinated about these topics: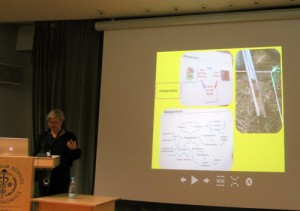 Laura BELOFF: Crafting Techno-Ecological Human.
Some future thoughts on DNA research… this is were art meets science!
and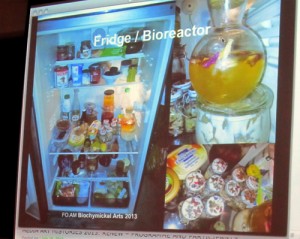 Brian DEGGER: Fermentations and net.culture as resiliency practices